About
When a restaurant becomes as well-loved and popular as Chef John Harris' Lilette, naturally there is an expectation that another and perhaps another restaurant will follow. This expectation created some dissonance for Harris, however, mostly due to the hands-on approach he believes is necessary to create an authentic and personal dining experience. With Bouligny Tavern, Harris is literally able to be in two places at once.
Since opening Lilette, Harris had his eye on the building directly adjacent to the restaurant, and when it became available in 2010, he seized the opportunity to open a bar -- a wine bar with premium cocktails, fine dining quality small plates and table service. From the exterior, Bouligny Tavern appears to be a traditional, century-old New Orleans residence. Upon entry, you are transported to another era. Bouligny Tavern is your father's den with your grandparents furniture and your cool uncle's record collection -- a visually smooth environment bedecked with vintage chairs, classically modern light fixtures and vinyl playing Jack Jones, Lena Horne, Miles Davis, or Nat King Cole as well as more current artists like Herb Alpert, the Animals or the Rolling Stones.
The interior space is a product of a collaborative effort between Harris, GM Cary Palmer and designers Brian Bockman and Jack Forbes. The design features inset walnut paneling, stacked stone, upholstered walls and coffered ceilings. Guests can lounge inside on diamond tufted banquettes, Ol Waschner armchairs, Marcel Breuer barstools or relax outside on the porch - on Bertoia chairs - and on the heated patio with couches and table seating for up to 30 guests.
The food is presented in small portions that encourage sharing and mutual discovery. The cocktails are inspired. The wine selection is sophisticated, diverse and ever-evolving. Table service means you donít have to interrupt your conversation to stand in line at the bar.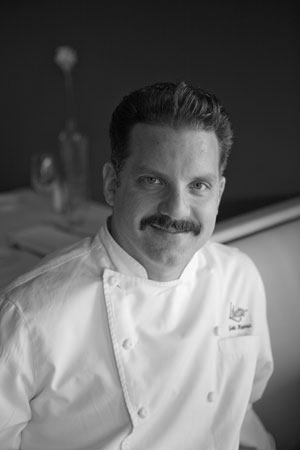 john harris
chef / owner
Chef John Harris and his staff at Lilette celebrated their tenth year in 2010. He has been a James Beard finalist for Best Chef South in 2009, 2010 and 2011. He was included in Food and Wine magazine's list of America's Best New Chefs in 2002 and was named Best Chef New Orleans by New Orleans Magazine. In addition, Lilette has been named a Top Ten Best Restaurant six of the last eight years by the New Orleans Times-Picayune.
John began his passion for cooking growing up in the kitchen of his italian mother. Working in restaurants during college, he couldnt resist the allure of cooking school. He attended the Pennsylvania Culinary Institute, which would lead him to stints at Café Allegro in Pittsburgh, and Spiaggia in Chicago.
John moved to New Orleans to work as Sous Chef at Bayona in the French Quarter under famed Chef Susan Spicer. While there, Spicer offered him the opportunity to travel to France and apprentice at Amphyclese and Le Pre Catalin -- both Michelin rated 2-star restaurants. During this time in France, John lived with the Mauri family, whose matriarch Lilette instilled in him a love of traditional French cooking.
After returning to New Orleans, John became Executive Chef at Gautreau's Restaurant, then worked with Gerard Maras of Gerard's Downtown. In December of 2000, John fell in love with the intimate space at 3637 Magazine Street that would soon become Lilette.
In 2010, John brought another vision to splendid fruition with the opening of the much-acclaimed Bouligny Tavern. Located in a century-old New Orleans cottage adjacent to Lilette, Bouligny Tavern combines a sophisticated, mid-century modern environment with a diverse offering of fine wines, classic cocktails and high-end food service featuring a sumptuous small plates menu.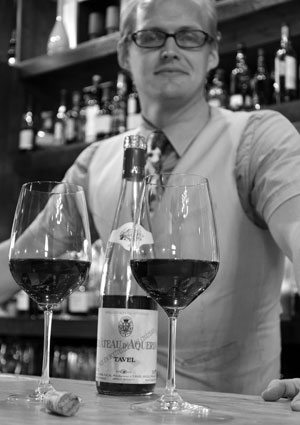 cary palmer
Wine Director / General Manager
Bouligny Tavern
Cary gained his considerable experience in New Orleans and Dallas, working for such notable establishments as Loa, The Urban Market, Swirl and Lilette. He is recognized as an accomplished, creative bartender and wine director, having received professional accreditations including an Advanced Certificate from the Wine and Spirits Educational Trust. He is also a graduate of the French Wine Society's French Wine Scholar Course.
A winemaker himself, Cary developed the wine and cocktail lists for Bouligny Tavern to reflect an appreciation for the art of fine cocktails and wines. This dedication to providing excellent wines and cocktails pairs well with Cary's commitment to delivering unparalleled service to the patrons of Bouligny Tavern.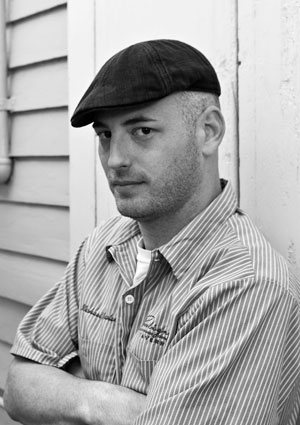 michael isolani
Chef du Cuisine
Bouligny Tavern
A native of Louisiana, Michael has been working in restaurants since the age of 16. He spent the early part of his career in Orlando, studying at Le Cordon Bleu Culinary School and serving an apprenticeship at the award-winning Norman's in The Ritz-Carlton, where he was later hired as Chef de Partie.
Michael returned to Louisiana to work with Chef Scott Boswell at the acclaimed Stella! restaurant in the French Quarter. After rising to Sous Chef under Boswell, Michael joined the kitchen at Lilette in 2008. In 2010, Michael was selected as part of the opening team at Bouligny Tavern, working closely with chef/owner John Harris in carefully developing a unique menu featuring small plates of deliciously upscale late night "bar food."